Lake Nipigon Pike
Lake Nipigon is well known for having Monster Northern Pike. The lake is so big that you can find bays and points leading into bays that have not been fished by anyone that year. Because of the barbless hook law, which is unique to Lake Nipigon in Ontario, all the trophy Pike get released and survive. This is why countless Trophy Pike in the 20 to 25 pound range get caught and released each year.
Not only are there an incredible amount of big trophies, there is a high population of pike of every size range. Our guests have caught Northern Pike up to 48 inches and some have claimed to have had bigger Pike on that broke the line. We have had guests that say they lost count of the Pike they hooked into. That is another advantage to barbless hooks. You can shake the little ones off at the boat without spending time unhooking them, which translates into more time working those weed lines and rocky points.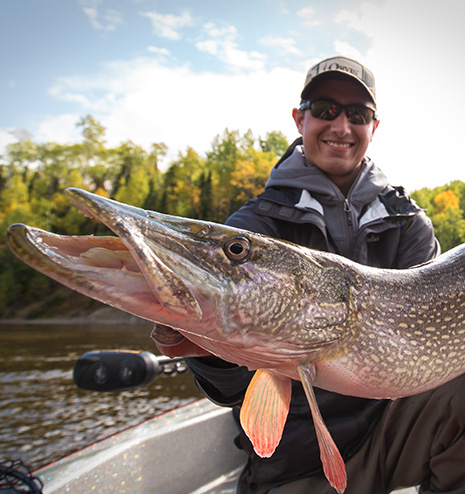 45

Lakes Within

2

Hours

From the Pasha Lake Cabins Basecamp, there are many lakes that offer a variety of Trout opportunities for both Numbers and Trophy fish.

We don't want our guests thinking that they just have Pasha Lake to fish. We want our guests to experience the adventure and thrill of fishing a different lake every day. You can think of Pasha Lake as the gateway to some of the top lakes in Ontario and a starting point for multiple Trophy expeditions. Lakes are accessible by boat or driving. Some lakes require a short walk down some portage paths through the forest, which adds to the adventure and lets you get a taste of the Northwestern Ontario Wilderness.

Below are just a few of the many lakes that provide great pike fishing opportunities.